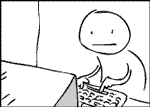 After

todays

conquering your computer class and trying some of the things at home, I felt like this lovely cartoon! Man do I have a headache! I want to learn, but patience isn't a virtue that I

posess

.
Don't get me wrong, joey is a good teacher and I think I have got it, then I get home and the "

blonde

" thing kicks in and I forget everything, even the great handouts become foreign languages.
went to

costco

today to return the portable a/c unit I bought because my office is INSANELY hot, but alas it didn't function correctly and felt like

satan

was blowing hot air in my general direction....

HAHAHA

, so we proceeded to grab an industrial fan that would give a good monsoon a run for it's money......it has now cooled off in this room to 78 degrees, almost bearable until I start having more hot flashes....I even foiled the windows, now I can't see what is going on out in the real world from my "cave"

LOL
Fridays late niter was

alot

of fun finished 3 projects...you say 3?!? you betcha you heard right..3..yes 3 and I would upload them but my camera batteries are dead and you will have to wait to see the lovely creations I have made this week ;)
Had a really good lunch yesterday at

Rigatoni's

yesterday too...had the lobster ravioli and all I can say is YUMMY!! had

hubby's

left over chicken

Florentine

for dinner, that also is very good.
Back to today, as I was coming home from class, I walked in the door and proceeded to KICK my scrapbook bag and I think I broke my

little

toe..

OUCH

! It is still throbbing all these hours later....
off to take some aspirin and rest my toe......ciao